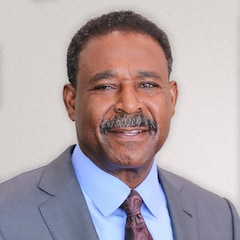 Mr. Barnett began his career with the automotive industry as a Hot Metal Crane Operator with Buick in Flint Michigan. He also worked the assembly line before being promoted to Supervisor of Skilled Tradesmen.
As a Supervisor of skilled tradesmen, Mr. Barnett was responsible for supervising 45 hourly employees while maintaining quality health and safety requirements. Mr. Barnett administered the Labor Agreement and promoted employee awareness of cost-effective organization. Mr. Barnett created and implemented an aggressive management program which made efficient use of employee time and established follow-up procedures.
Mr. Barnett was then promoted to General Supervisor with the Indirect Material Control, Cribs and Tool Engineering Division. Mr. Barnett was responsible for maintaining sufficient quality standards in regards to materials within prescribed inventory levels. He interpreted order schedules and releases for a four-million dollar crib inventory. Mr. Barnett instituted new tooling and associated equipment recommendations with a high regard for fundamental piece cost, tool and product quality. Carl Barnett supervised 10 salaried employees as well as 17 hourly employees and continued to gain knowledge of the attributes and traits needed to provide a positive working environment for all employees
In 1987 Carl Barnett began to prepare himself for a career as an automotive dealer by enrolling in the General Motors Dealer Academy. Upon graduating, Mr. Barnett purchased his first dealership, Barnett Oldsmobile in Tulsa Oklahoma.
In May of 1991 Carl Barnett became the proud owner of Gulf Freeway Pontiac-GMC in Houston, Texas. Mr. Barnett and the Barnett Auto Group owned three dealerships in the Houston area.
Through various strategic business moves, Mr. Barnett has now diversified and streamlined his holding to three dealerships (Onion Creek Volkswagen, Paris Ford Lincoln, and Gorman McCracken Volkswagen Mazda) and looks forward to continue growth of his dealer group. "I am proud of my success but attribute most of this to the people that I have had the opportunity to work with and I give credit to the employees that I have had the pleasure of training in the automotive industry all of these years. I also believe that a dealership can be successful by exceptional customer service. Our loyal customers have made my dealerships grow and for that I am thankful." 
Carl Barnett Sr. 
To Contact Mr. Carl Barnett email to barnett@barnettautogroup.com.